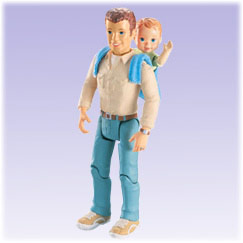 Normally, I would think this is too cutesy sweet to mention, but remember, I just got back from Japan, where literally Every. Single. Company. has a cuddly cute Hello Kitty-esque mascot. Right now, a Fisher-Price Loving Family˘ Dad & Baby sounds just fine. [Thanks for the heads up, Rebeldad.]
These dolls family action figures˘ [I'll see your trademark, Fisher-Price, and raise you two.] are available in both Caucasian and African American versions. Grandma only comes in white, though, which limits play to Loving Obama Family˘.
These and other fine trademarked Fisher-Price products are available at...oh, wait... Unless you buy a whole house, Toys R Us only has the That's it, I'm Taking The Kids To My Mother's˘ Doll Set. It's $16.99, as if Mom's gonna wait by the mailbox again for a check from that jerk...