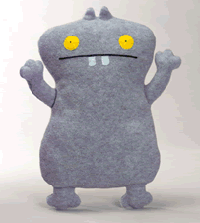 I've been meaning to post about Ugly Dolls for a while. We just got a couple for a friend's kid's first birthday, and they're really soft and cuddly. But the main thing they've got going for them is they're not all *CUTE*.
Each Ugly Doll is born with its own personality sketch, which is about as helpful as a Chinese restaurant menu horoscope in deciding which dolls go together. Guess we'll all have to wait for the cartoon to see how they get along.
Ugly Dolls are exactly what some megatoycorporation could not make, but would like to exploit now that they're a hit. They were created by David Horvath and Sun-Min Kim in 2002, a couple of Parsons design school grads, who sewed them all, by hand, for the first year-plus. [Read an interview with them.]
Zakka, a jap-pop comic store in SoHo, was the first store in NYC to stock Ugly Dolls, and they still sell them online for $19.