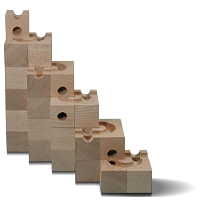 Cuboro is a beatiful-looking game/system from Switzerland. You build intricate marble trails using 5cm wood cubes with various holes and channels cut into them. The birch cubes seem as Swiss-engineered as a, um, Swiss watch.
I don't know how young a kid can be and not choke on a marble-- I'm guessing a 3-year old can eat marbles all day, with only a frantic parent and a clogged toilet to show for it--but I don't want my 4-month old kid to be a test case. Still, it's pretty cool.
Cuboro is available in about a million stores around Europe and Asia, and on three nerdtoy websites in the US. Who says we're winning the science education race? Oh-toys.com has the Cuboro standard set for $134.95.